United Nations Truce Supervision Organisation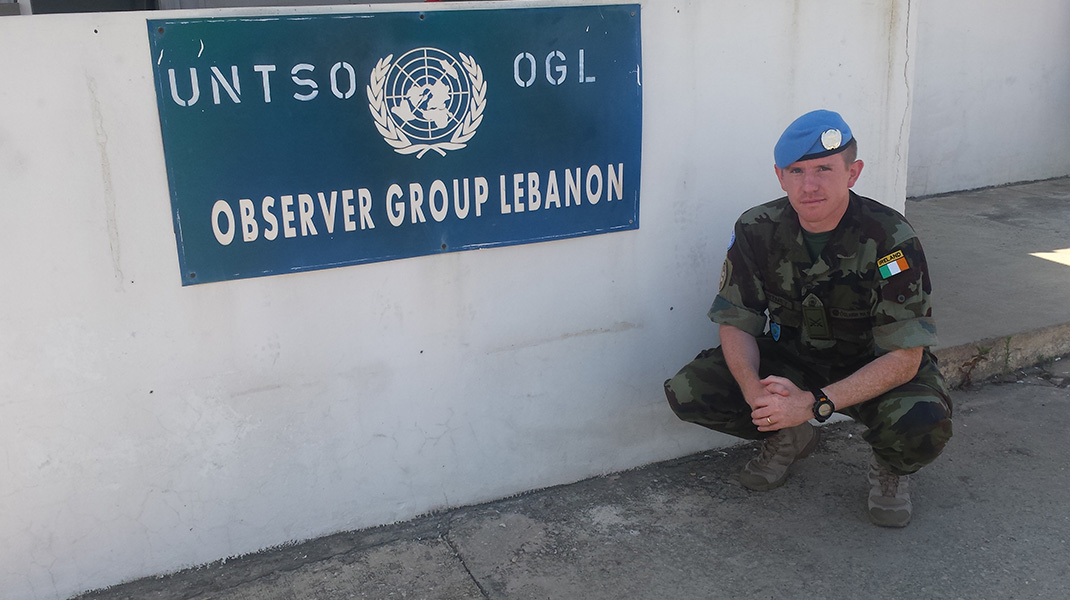 UNTSO – 18 December 1958 to date
UNTSO, established in 1948, is the oldest ongoing United Nations peacekeeping operation. It operates in Syria, Jordan, Lebanon and Israel – the parties to the Truce Agreements that followed the fighting in Palestine in 1948.
The mission's mandate, "to observe and maintain any truce or ceasefire demanded by the Security Council and to assist the parties in supervising any agreements concluded by them," is open-ended and does not require periodic renewal.
UNTSO is also tasked with assisting in the setting up of new UN peacekeeping missions and has been involved in the establishment of many of these, including ONUC, UNIFIL and UNPROFOR. UNTSO HQ is based in Jerusalem and has observers in Lebanon (OGL), Tiberias (OGG-T), and Damascus (OGG-D) as well as liaison officers in Cairo, Beirut, Amman and Gaza. UNTSO also supports the United Nations Disengagement Observer Force (UNDOF) on the Golan Heights by manning observation posts in the area.
Operation Details
Ribbon for the Medal
Duration
18 December 1958 to date
Operation type
UN led Peacekeeping Operations (Observer)
Commitment
12
United Nations Interim Force Lebanon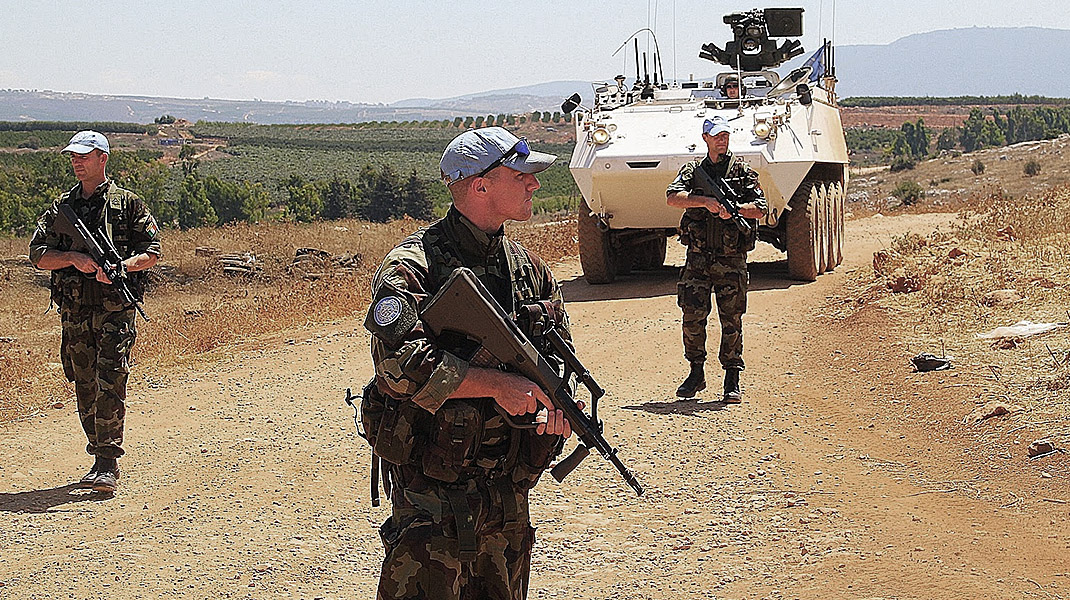 UNIFIL – May 1978 to Date
Following the Israeli invasion of Lebanon in 1978, UNIFIL was established to supervise the withdrawal of Israeli Forces and restore peace and security to the area. Since then the Defence Forces had an Infantry Battalion (approx. Strength 540 personnel) in Lebanon, which rotated every six months plus almost 100 others in UNIFIL headquarters and the Force Mobile Reserve until November 2001.
The battalion's headquarters was located in Tibnin and it was responsible for an area of approx 100 square kilometres. It performed its duties mainly by providing a presence in the area, by operating patrols, checkpoints and manning observation posts. The battalion also rendered humanitarian assistance to the local population including aiding the local orphanage in Tibnin.
The presence of the Irish battalion in South Lebanon undoubtedly helped to restore normality to the area, as evidenced by the increase in population and economic activity in the region. This is a part of Ireland's commitment to global peace and security.
After the withdrawal of Israeli troops from South Lebanon and the completion of its mandate with UNIFIL, the Irish Defence Forces withdrew from the Area of Operations leaving behind 11 Defence Forces personnel in Lebanon to overseas the handover of the mission to Ghana Battalion.
A total of 47 Irish Defence Forces personnel lost their lives in the service of peace during the first 23 years of this mission, in which over 32,000 individual tours of duty have been completed.
Following a return to intense conflict on the Israel/Lebanon border in June/July 2006, in response to a request from the UN in accordance with UN Security Council Resolution 1701 of August 2006, the Defence Forces returned to Lebanon on 31 October 2006 for 12 months. The unit consisted of a Mobile Mechanised Infantry Company Group and operated in reconnaissance, patrolling and security roles alongside a Finnish Engineering Company as part of a joint Irish-Finnish Battalion.
The Infantry Company Group withdrew in 2007, however the Irish Defence Forces remained committed to UNIFIL, with nine personnel serving in the UNIFIL HQ in Naquora. In June 2011 until Nov 2013, the Irish Defence Forces deployed a Mechanised Infantry Battalion of approx 440 personnel to UNIFIL, as in the past this unit was involved in peacekeeping operations. The Infantry Battalion, deployed in UNIFIL's Sector West continued to be involved in this area Peace Keeping Mission. Their duties included manning two Posts along the Blue Line between Lebanon and Israel. The units also carried out patrolling, ground holding and humanitarian operations. As a mechanised Infantry Battalion the unit was equipped with MOWAG Piranha III APCs, Light Tactical Armoured Vehicles (GR32), heavy machine guns, anti-tank guns and Javelin missiles, heavy and medium mortars, reconnaissance surveillance equipment.
As of Nov 2013, the unit is now operating as an Infantry Group under the command of a FINIRISH Battalion. The UNIFIL mission Monitor, Support and Assist involves extensive mobile patrolling throughout the Irish area of operations, including ground-holding, monitoring the Blue Line and humanitarian operations. Operations are conducted on a "High visibility, low profile" basis with access to armour if needed; soft skin vehicles are predominantly used for interaction with the local population.
The Irish Defence Forces currently have 336 personnel serving in the mission area. Together with a contingent from Finland and a platoon plus of Estonian soldiers (38), they form IrishFinnBatt based at UNP 2-45 in UNIFIL Sector West. In addition there are personnel serving in UNIFIL HQ near Naqoura and  personnel serving in Sector West HQ, Shama.
Operation Details
Ribbon for the Medal
Duration:
May 1978 – today
Operation type:
UN led Peacekeeping Operations (Troops)
Commitment:
460
United Nations Disengagement Observer Force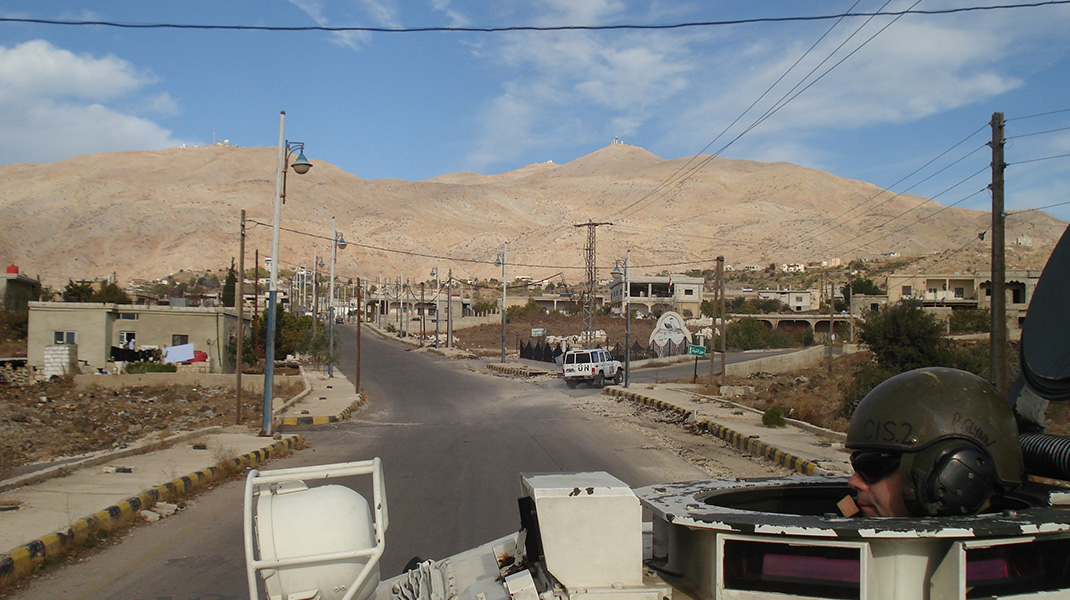 UNDOF- June 1997 — August 1998
UNDOF – September 2013 – to date
UNDOF was established by UNSCR350 in 1974 following the agreed disengagement of Israeli and Syrian forces on the Golan Heights after the ending of the Yom Kippur War. The Force deployed in and around an area of separation, which is 80km long and varying from 10km to 1km in width. UNDOF is the only military presence allowed in the area of separation, and it has 44 manned positions and 11 observation posts.
The Defence Forces' first contribution to this mission consisted of providing one force commander, Brigadier General Dave Stapleton (RIP) (subsequently Chief of Staff of the Defence Forces).  In September 2013 the Defence Forces have been asked to participate and supply a larger group of troops to the Mission.
They will be  primarily tasked as the Force Mobile Reserve to undertake reinforcement, reaction, escort and other operations throughout UNDOF's Area of Responsibility.
Operation Details
Ribbon for the Medal
Duration:
June 1997 — August 1998 & September 2013 – to date
Operation type:
UN led Peacekeeping Operations (Troops)
Commitment:
130